As restaurants struggle to reopen post-lockdown, happy hours are tough to find. As we discover new ones, I will list them here. If there are others that should be included, please let me know.
Avec West Loop Location
615 W Randolph
Happy Hour is Wed-Fri 5:00-6:00
Select wines $10 (250ml), Select cocktails $10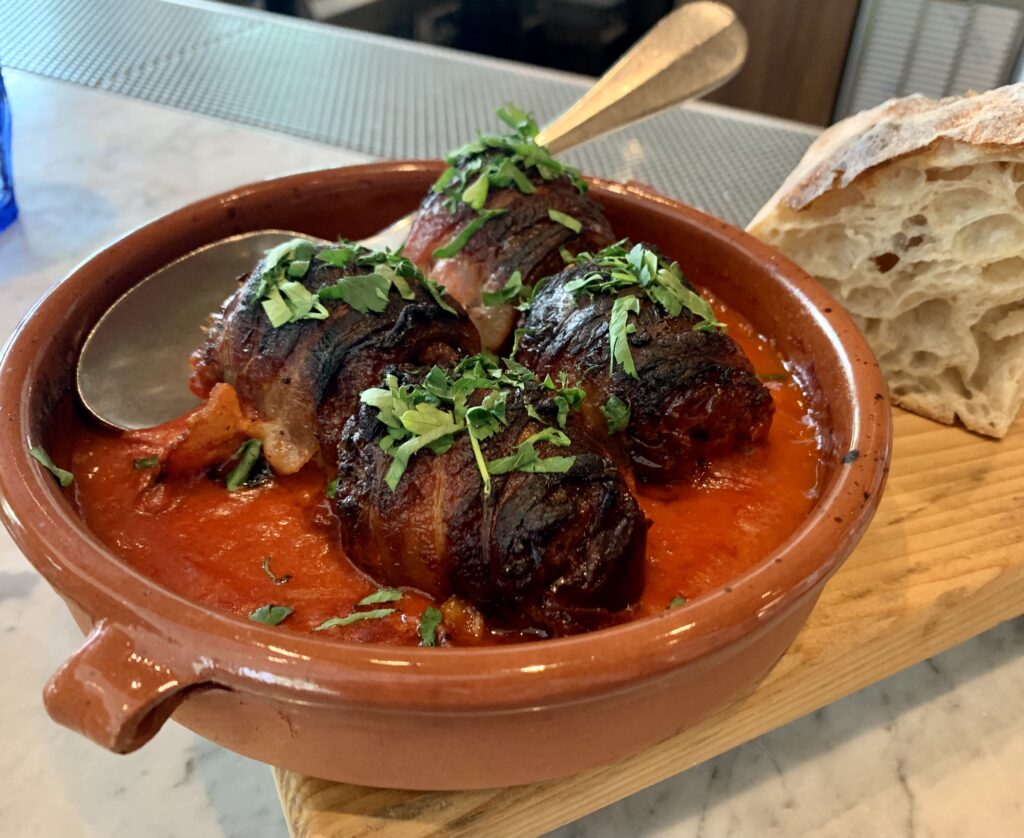 Three great food items half price:
Chorizo stuffed Medjool dates with bacon and piquillo pepper-tomato sauce. It's spicy, sweet, and amazing for $10. Our favorite item!
Potato and salted cod brandade with garlic crostini $9
Chicago Chop House
60 W Ontario
Before Covid, Chicago Chop House had a terrific Happy Hour. Unfortunately, they no longer have one. If and when they resume the Happy Hour, I'll be happy to post it here.
Gordo's Tiny Taco Bar
333 E Benton Place, Suite 100 (Park level) Mon-Fri 4-6
$5 Margaritas, $4 Beers, All appetizers Half-Price!
Excellent food and service at a great price. If you enter from Randolph, take the escalators to the park level then head outside to the left.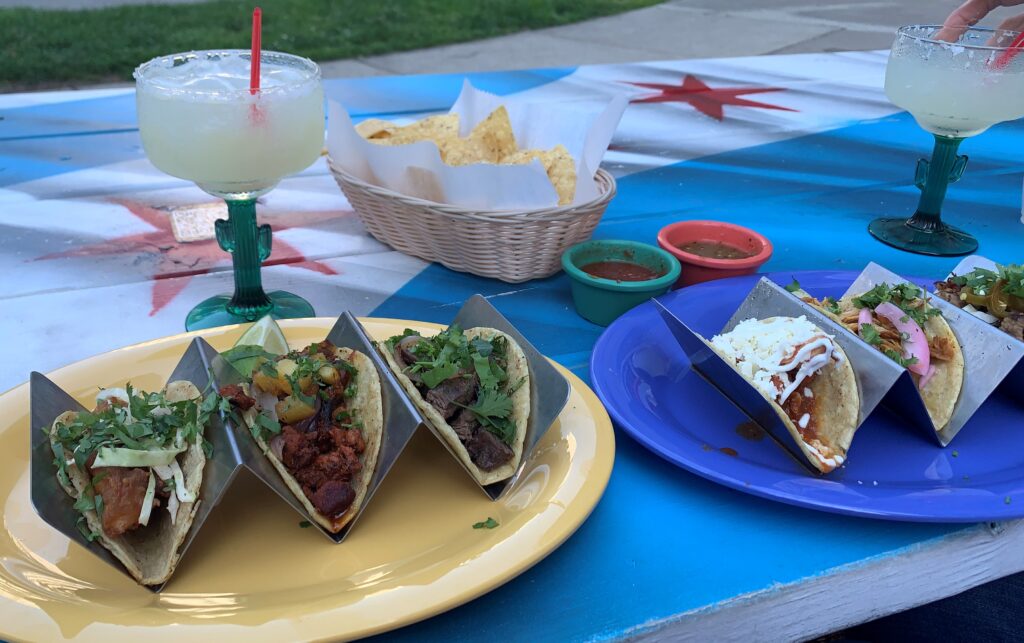 Hampton Social Streeterville
164 E Grand Ave Mon-Fri 3-6
Stop and smell the rosé! Enjoy ½ off selected rosés and pizzas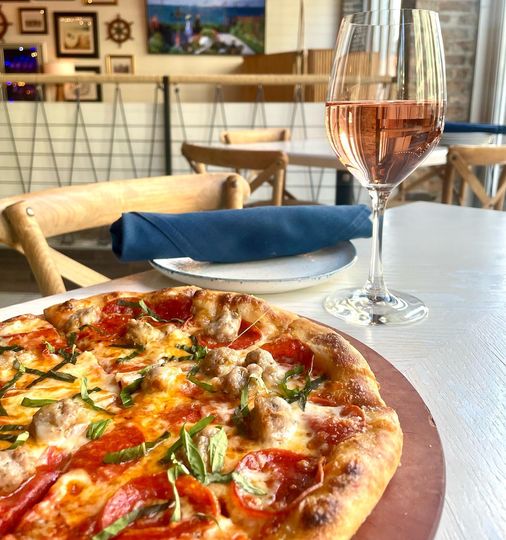 Ocean Prime
87 E Wacker Mon-Fri 4-6
Specials on Sushi, Cheeseburgers, Deviled Eggs, Calamari, Goat Cheese Ravioli, Crab Cakes, and More! Specials on house wines by the glass, select cocktails. Good food in a nice atmosphere overlooking the river.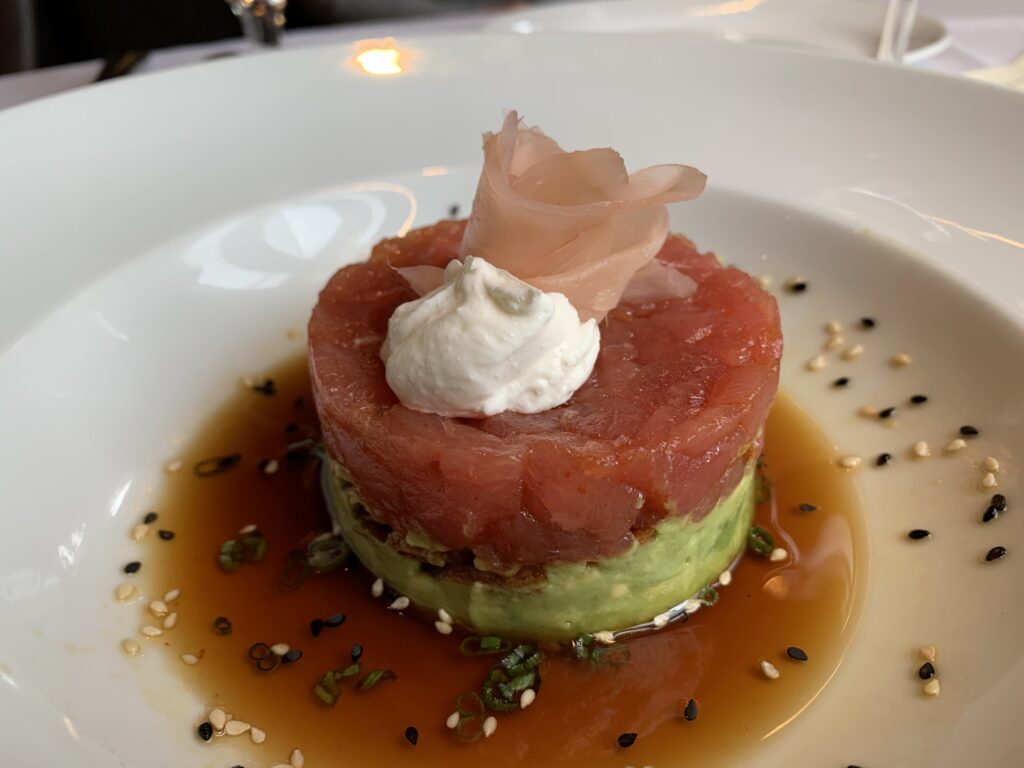 Osteria Via Stato
620 N State St – Sun-Thu 5-6, Fri-Sat 4:30-5:30
Half-price pizza and select house wines. Add a salad and you're all set!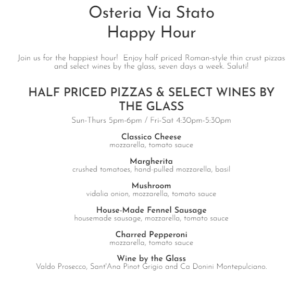 Pinstripes Chicago
435 E Illinois, 4-6:30 Sun-Fri
One of our favorites is back. Make a reservation if you want to be outside on the patio.
$5 House wines, $5 Craft Beers, $6 Cocktails, Pigs in a Blanket, Tenderloin Sliders, Calamari, Truffle Fries, Wings and a selection of Pizzas and Flatbreads.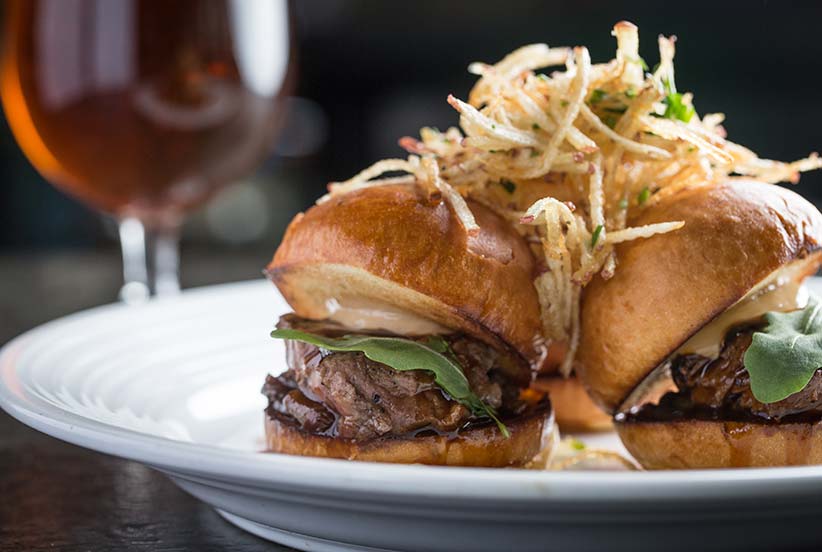 STK Steakhouse
9 W Kinzie, 3-5 PM Every Day
Ditch work early and head to STK Steakhouse for our Daily Happy Hour; featuring $2-$8 Bites, 1/2 Off Signature Cocktails & $10 Justin Cabernet and Vievité Rosé.
Available in the entire restaurant. Available every day so this is a perfect late lunch or early dinner for Saturday/Sunday!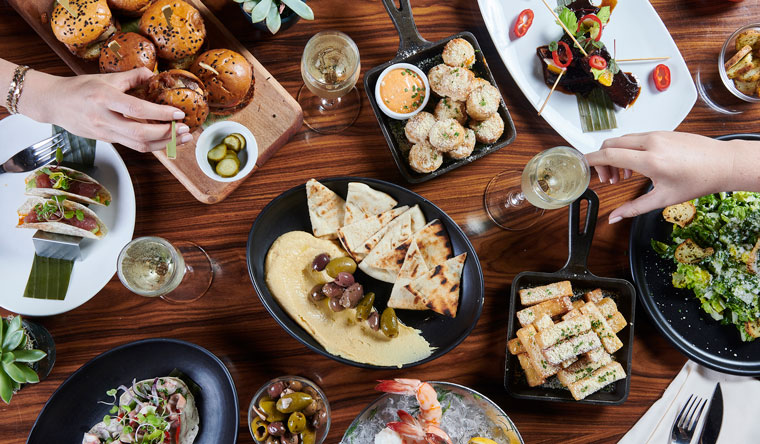 Truluck's Chicago
41 E Chestnut Street, 3-6 PM Mon-Fri
Unfortunately it seems that Truluck's no longer has a Happy Hour. It was a good one.
Great seafood, wine, and cocktails served at the bar and lounge area. This one gets busy to get there early! Click the pics for full view.
Venteux
230 N Michigan Ave (The old Union Carbide Building) 4-6 PM Tues-Fri
Amazing food and great atmosphere, in the Pendry Chicago Hotel.
$10 Wines, $12 Cocktails, Sliders, Steak Tartare (Smoked egg yolk, sunchoke, mustard), Liver Mousse Tartine (Seasonal jam, mustard seed, fennel), Gougeres (Puff pastry with truffle honey and mornay), Shrimp Cocktail, $1 Oysters, and more. Get there early!