Living in downtown Chicago can be expensive. But if you're willing to dine a little early, you'll find some of the best Chicago food and wine at great prices! These are all a short walk from our place. If there are any you think should be added to the list, let me know!
Click the venue name for the menu.
Beacon Tavern
405 N Wabash Ave (Between Trump and Wrigley), M-F 3-6
$8 Wine and Cocktails, $3-$9 Nibbles

Bijan's
663 N State St Mon-Fri 4:00-6:00
1/2 OFF All Beer and Wine, 1/2 OFF Non-premium Liqueur, 1/2 OFF All Appetizers
The house wine isn't bad, and at half-price it's only $4 per glass! One nice thing about Bijan's is you can enjoy the happy hour in the restaurant or even outside. You don't have to sit by the bar. Bijan's is open 10AM-4AM 365 Days a year! The steak salad (on the dinner menu) is fantastic! Say hello to Rolf.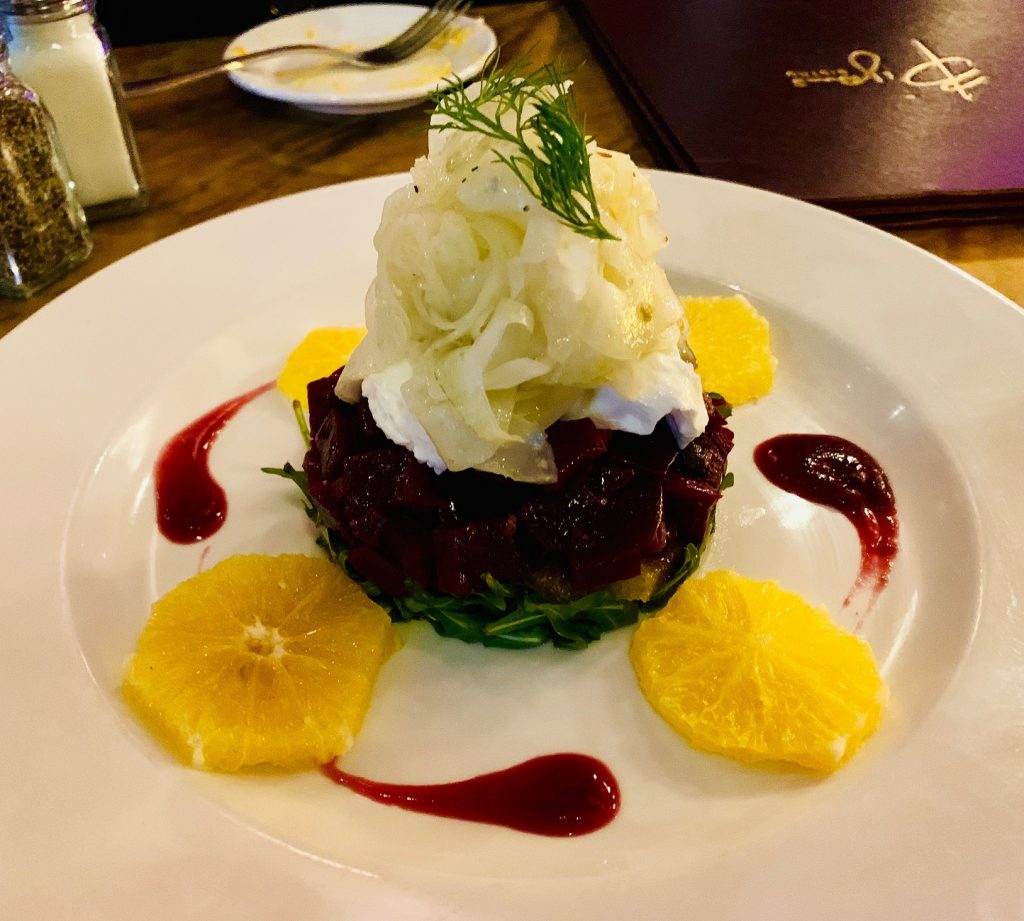 Cantina Laredo
508 N State St, Mon-Fri, 3:30-6:30 PM Upstairs Half-off casaritas, house wine, draft and bottled beer

Chicago Chop House
60 W Ontario, 4-6 Monday – Friday
Cocktails and select wines $8
Prime Rib Sliders or Filet Tip Sliders 3/$14
Charcuterie Board $18
Doc B's Fresh Kitchen River North
55 E Grand, 4-6 Monday-Friday
$4 Beer, $6 Wines New Kitchen Items ($6-$9): Burgers, Chicken Sandwiches, Fried Chicken, Wok Bowels, Brussels Sprout Salad and more. The fried chicken is amazing. So is the brussels sprout salad. I like the Thai Veggie Wok Bowl, but I usually ask them to kick up the spice level.

Eddie V's
521 N Rush, Every Day 4-6
$8 premium wines, $7-$19 appetizers

Emerald Loop
216 N Wabash Happy Hour Specials Mon-Fri 4-6PM
$6 Draft Beers & Well Drinks,
$4 Parmesan Truffle Popcorn, $5 Crispy Cauliflower Bites, $2.50 Sliders
Weekday Specials
Monday Meatloaf $13
Tuesday Chicken Pot Pie $13, Emerald burger and side $10
Wednesday Guinness Beef Stew $14, Rosemary Chicken $14
Thursday Corned Beef & Cabbage $14
Friday Lobster Mac & Cheese $17, Grilled Rosemary Swordfish $18

Flemings
25 E Ohio, Every Day 5-7
$9-12 wine and cocktails, $9-$14 appetizers, $11 burger
George is the managing partner, and he runs a great place. You'll usually find Lonnie behind the bar making sure happy hour runs smoothly.

Katana Chicago
339 N Dearborn (Marina City)
4:30-7:00 Monday-Friday
4:30-6:00 Saturday
Nice Happy hour menu with $10 specialty cocktails, $6 wines, rolls, skewers, wagyu beef sliders, lots of goodies!
McCormick & Schmick's Wacker Drive
1 E Wacker Dr, Mon-Fri 4-6:30
This chain claims the best happy hour in the country. Here's the menu.
Outdoor seating is usually available.
Morton's
65 E Wacker Place, Mon-Fri 4-7
$8 wine, $8-10 bar bites
Mini Files, Buffalo Chicken Strips, Mini Crab Cake BLTs, Tuna Tacos, Burgers, etc.
Ocean Prime
87 E Wacker Mon-Fri 4-6
Half Price Sushi, Sliders, Deviled Eggs, Calamari, Goat Cheese Ravioli, Lamb Lollipops, Crab Cakes and More! Half price house wines by the glass, select cocktails. Good food in a nice atmosphere overlooking the river.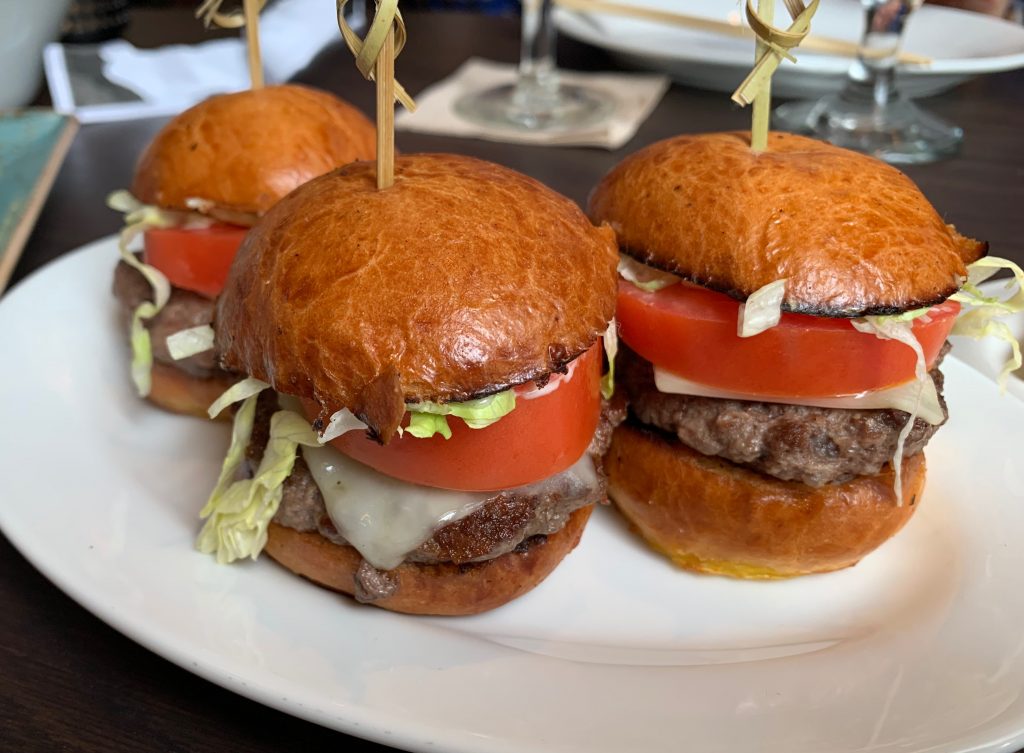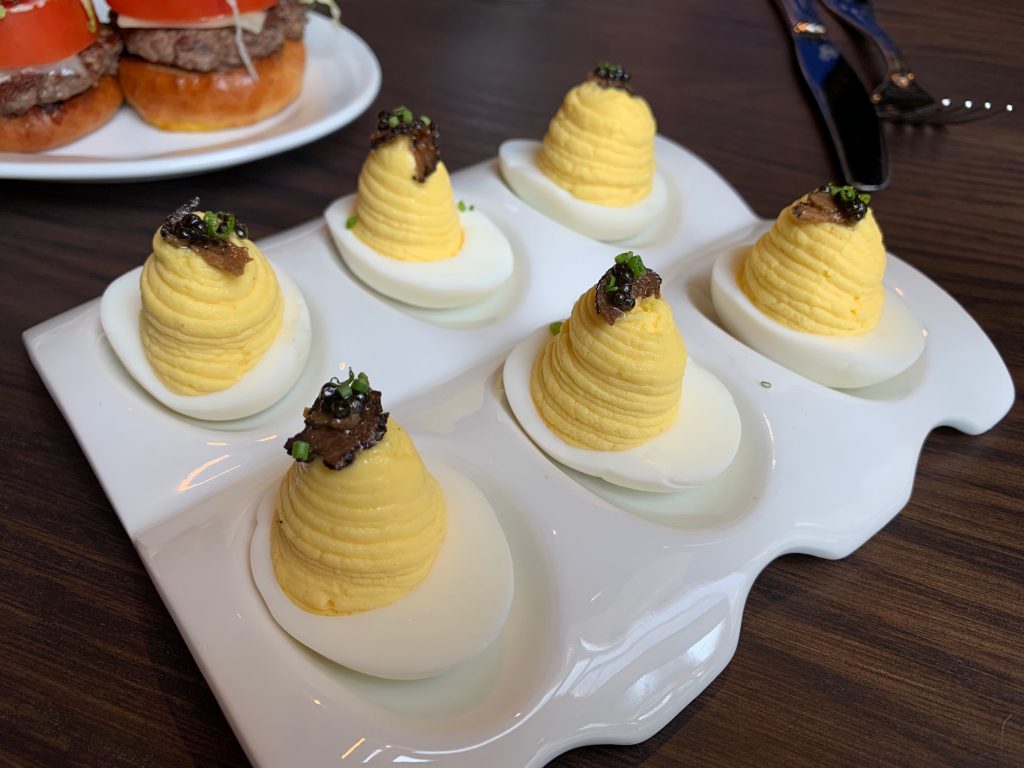 Pinstripes
435 E Illinois, Mon-Fri 3:00-6:30
$4 Beer, $4 Wine, $5 Well Drinks, Appetizer Specials including Sliders, Flatbreads and Pizza. Pinstripes is especially nice in the summer when you can dine outside.
River Roast
315 N LaSalle, Mon-Fri 3-5

$35 – Bottle of Rose and 12 Oysters
$3-$7 Bites, $10 Burgers, $10 Cobb Salad
$5 Beers, $7 Cocktails River Roast has a great location on the north side of the Chicago River at LaSalle. Be sure to arrive early for Happy Hour to get a great riverside seat.


Rock Bottom
1 W Grand Ave, Mon-Thurs 3:30-6:30
$5-$7 Appetizers, $3 Beer, $5 House wines
Ruth's Chris
431 N Dearborn, Mon-Fri 4:00-6:30
$9 Prime Burger, Tenderloin Salad, Crab BLT, Steak Sandwich, Ahi Tuna, Spicy Shrimp. Limited wine selection. You can sit at the bar, but if you're early you can ask for a booth along the window if available.
Union Sushi + Barbeque
230 W Erie, Every Day 5-6:30
$1 Oysters, $2.50 beef filet skewers, $4 shrimp rolls, $5 Moscow mules.